School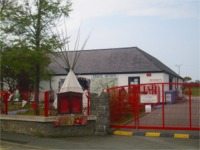 Thank you for taking the time to discover and learn about our school. We hope that this website will help give you a taste of the school and the opportunities we provide for your child.


Ysgol Morfa Nefyn is a school for infants and children up to Year 3 (ages 3 - 8). We hope that the children will spend the first years of their education in a happy and homely environment, developing educationally and socially.


Our school building, built in 1982 is situated on one floor, making it suitable for children with physical disabilities. This modern building has been adapted for Foundation Phase children. We are fortunate in that the school is located in grounds that provide plenty of opportunities for learning and outdoor activities.

We strive to ensure that pupils receive a variety of interesting and relevant experiences in a safe and friendly atmosphere, so that they may become independent and responsible citizens. We endeavour to maintain a happy environment which nurtures lively, enthusiastic and inquisitive children.


It is important that we as teachers co-operate closely with you, the parents, to ensure the best education for the children. Ysgol Morfa has an 'open-door' policy at all times and you are welcome to make arrangements to visit the school.


We look forward to working with you in order to make your child's time here at Ysgol Morfa a happy, interesting and successful one.